The political trends of the last few years point to potential problems in the health care sector. The health care sector is a very popular one for investment. The health care sector is the S&P 500's second largest (13.89% weighting as of 5/31/2017) and for years has been characterized by growth that easily outpaced overall GDP growth. Among investors that are more conservative, the temptation to overweight health care companies in their portfolio is very strong. The sector offers very low volatility (a beta of .82 using the Health Care Select Sect SPDR ETF (NYSEARCA:XLV) as a proxy) and many companies pay generous dividends. Growth, low volatility, and dividends, what's not to like?
However, we see some dark storm clouds on the horizon for the sector. Since perhaps the 2008 presidential election, the topic of health care has been one of the most significant in voters' minds. Indeed, there is a good argument that backlash against the ACA was the driving force behind the Democrats losing a combined 1,000 state and federal legislative seats since 2010. There is also every reason to believe that health care will be a significant factor in the 2018 midterms and 2020 presidential election. Whether the BCRA passes or not is largely irrelevant to this thesis. We will either have a situation where some 20 million lose health care coverage (BCRA passes) or a situation where the existing health care system still needs fixing.
In 2016, the US spent an average of $10,345 in per capita health care costs. This compares to an OECD34 average of $3,453 per capita in 2015. The US is spending almost three times as much on health care as the average developed country. In fact, as the graph below from the Kaiser Family Foundation shows since the 1960's, health care costs have grown from 5.0% of GDP to over 17% of GDP!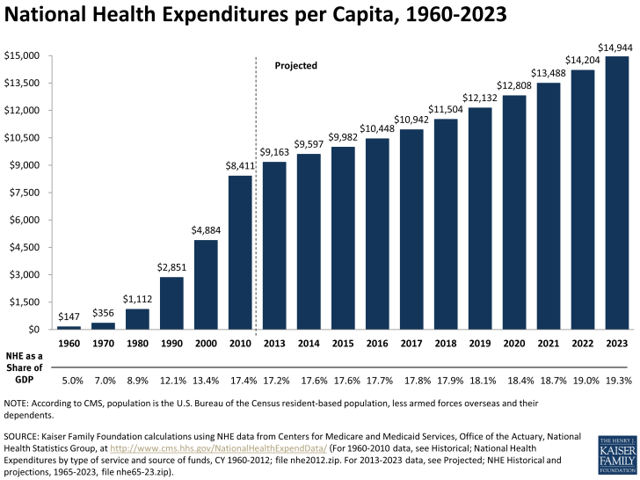 You can continue reading the rest of the article on SeekingAlpha.com by clicking here.